ALEXANDER TECHNIQUE New York — Rebecca Tuffey, M.AmSAT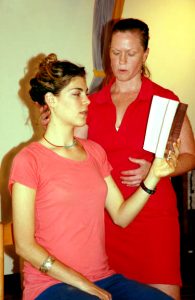 Rebecca Tuffey teaches the Alexander Technique in private lessons & group classes in New York City.
Her students are learning to create and maintain health using mind & body together. These actors, musicians, dancers, athletes, pregnant women & their partners, families, yoga practitioners, computer users, sufferers of back, neck, & body pain, people in transition, and people wanting to know themselves better are cultivating poise through practical exploration. You can learn, too.
The Alexander Technique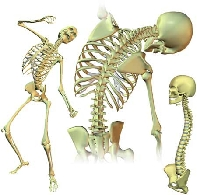 Want to improve your posture and movement skills? Discover a synergy between body and breathing that opens your mind and frees your voice? Looking for long-term relief from chronic pain? Striving for the poise under pressure that's necessary to perform at the next level? For over 100 years people have benefited from the Alexander Technique. Now you can learn to eliminate inefficient postures and connect to your natural ease, poise, and breath.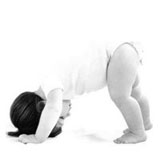 The Alexander Technique is a practical process for changing ineffective habits of thinking, moving & breathing. Everyone walks around with excess tension that gets in the way. You can learn to release your own tension. You don't need a daily massage to do it — just a different way of "thinking in activity".
Perhaps you lock your knees while standing or squeeze your arms into your chest while using your mobile device. Perhaps you hold your breath without intending. Maybe there are mental habits that accompany the physical ones…like ways of fixating on past experiences or anticipating future ones that lock your body & breathing into constrictive patterns. You can let go of these habits by using Awareness, Inhibition, and Direction – the tools of the Alexander Technique.
Sometimes unconscious habits cause pain, injury, or anxiety. But even when pain isn't present, out-moded habits stress the healthy use and functioning of your whole mind/body system. Using the Alexander Technique, you can have a greater range of motion, less tension, and breathing and speaking can be full, natural, and joyful.
What are you doing with yourself?
Do you know which habits get in your way? Are you overworking? Collapsing? Struggling between the extremes?
REDISCOVER YOUR FREEDOM with the Alexander Technique and Rebecca Tuffey. You can learn to present your best self to the work, activities, and people that you love.
Benefits
BMJ (British Medical Journal) published a study in August 2008 proving the effectiveness of Alexander Technique for pain relief. Students of this technique also experience: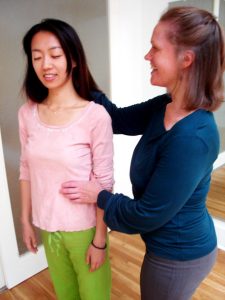 Ease in everyday movement
Rich & open speaking voices
Unexpected changes in perspective
Comfortable sitting for longer periods of time
Clearer mind & emotions
Compliments on beautiful posture & poise
Freed up creative impulses
Extra satisfaction in exercise, dance, yoga
Relief from pain, headaches & sleeping trouble
Comfort in pregnancy & resource in childbirth
Fuller experience of loved people & places