Alexander for Women and Families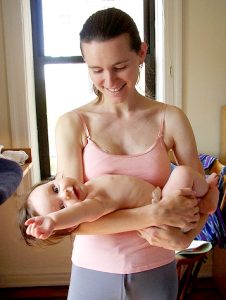 Before pregnancy, you had habits that made you sometimes heavy, sometimes stiff, sometimes tired, and sometimes negative. During pregnancy, the conditions inside your body become more challenging, and those troublesome habits exact a greater toll on you.
Growing a baby inside you is hard enough! Why let your unconscious, unnecessary habits add to the challenge? Learning the Alexander Technique helps you reconnect with the natural ease and coordination YOU had as a baby!
Pregnancy

THE BEST TIME TO BEGIN ALEXANDER TECHNIQUE LESSONS IS IN YOUR FIRST OR (EARLY) SECOND TRIMESTER. During pregnancy, your body is changing daily. Your center of gravity is shifting. You may feel excited; you may feel afraid. The Alexander Technique helps you reliably manage shifts of weight with ease and grace and gives you a resource for allaying stress and fatigue. Building some basic skills early in your pregnancy will help your body to support the big changes in weight (which coincide with your joints loosening) in the third trimester.
Childbirth Preparation
I see preparing for labor like preparing to run a marathon. It's important to stay physically and mentally healthy and upbeat from start to finish. Many women become intimidated by the prospect of a painful labor. While nothing can truly take away the intense feelings of childbirth, the Alexander Technique can be a powerful tool for partnering with the natural process. In labor, you want to encourage your body to open and let baby move out. You will learn how to heighten your awareness so you simultaneously allow your body to lengthen and widen and make space for baby while letting go of subtle impulses to tighten and clamp up. Partners, labor doulas, and coaches can be a part of this learning process, discovering their own habits of tightening as they support a loved one in a challenging situation.
In lessons, you will learn how to access ease, space, and breath in your everyday activities, like climbing stairs, preparing a meal, sleeping. We will also explore special movements — squatting, crawling & breathwork — that can relieve the common discomforts of pregnancy and help you prepare for a natural childbirth, if that is your desire. I am currently offering a SPECIAL DISCOUNTED RATE of $50 for your first Alexander Technique lesson during pregnancy. Come experience it for yourself!
Parenting

Moms, dads, and caregivers can use the Alexander Technique to dissolve some of the pain and strain brought on by everyday parenting. Our hearts soar when we're with our children, but our bodies ache. If you have spent a few hours watching a child you know the soreness in your neck, back, and shoulders from slumping over to keep an eye on the little one. The main physical challenge of caretaking is that your child exists down there…much closer to the floor than you…and very dependent on your hands-on attention. You will learn the best ways to bend, how to support yourself while breastfeeding, and even how to quiet your frustration when disagreements arise.
Study with Rebecca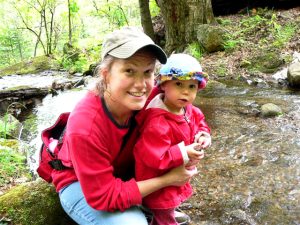 My teaching brings mindfulness to the ordinary physical tasks of parenting and pregnancy and helps reconnect you with your ease and balance. I teach from experience, having practiced the Alexander Technique throughout my own pregnancies and being the proud mom to two energetic girls.